2 Lean & Green stars for A2B-online!
During a festive ceremony at the headquarters in Hazerswoude-Dorp, the first 2 Lean & Green stars were awarded to us on Friday, November 17, by Minne Jansen and Jan van Nunen of Lean & Green Netherlands.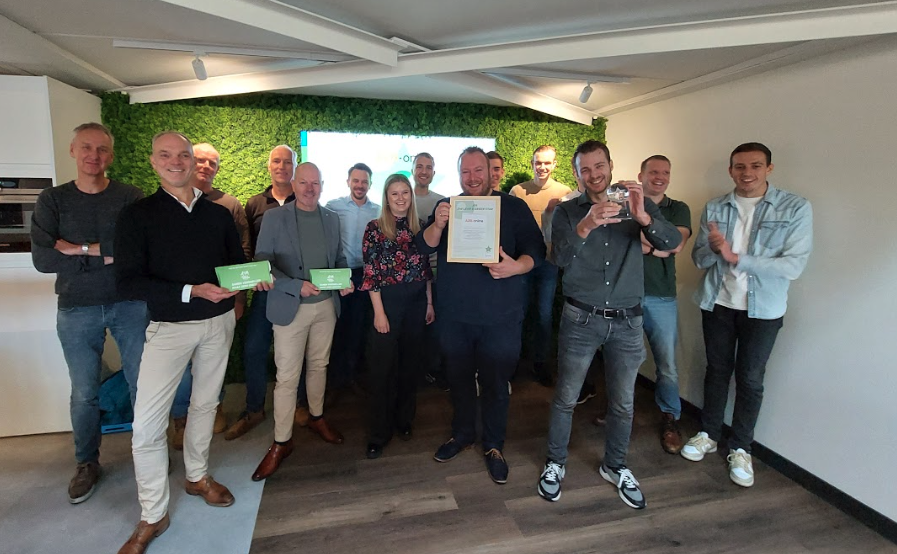 Recognition for our sustainability initiatives!
CO2 reduction
Based on demonstrable CO2 reduction, A2B-online has proven to be well on track to meet the climate goals of the Paris Agreement. In the past year, in-depth analyses have been carried out on historical data, clearly showing that the sustainability measures taken in recent years have borne fruit. Examples include optimizing transport planning to reduce the number of empty kilometers and training drivers in 'eco-driving.'
Read more about our sustainability initiatives > 
"It's great to see that the measures we, as an organisation, have taken in recent years translate into this recognition. This demonstrates that growth ambitions and sustainability go hand in hand. In addition, the management has expressed the ambition to further reduce our carbon footprint in the coming years, making it likely that it won't stop at these 2 stars."
Leon Pronk – Business Analyst A2B-online
About Lean & Green
Lean & Green provides participating companies with verified recognition (Stars) for achieved CO2 reduction in logistics activities. Participants follow the 5 Star Framework by developing a CO2 reduction plan and annually measuring and monitoring CO2 emissions.