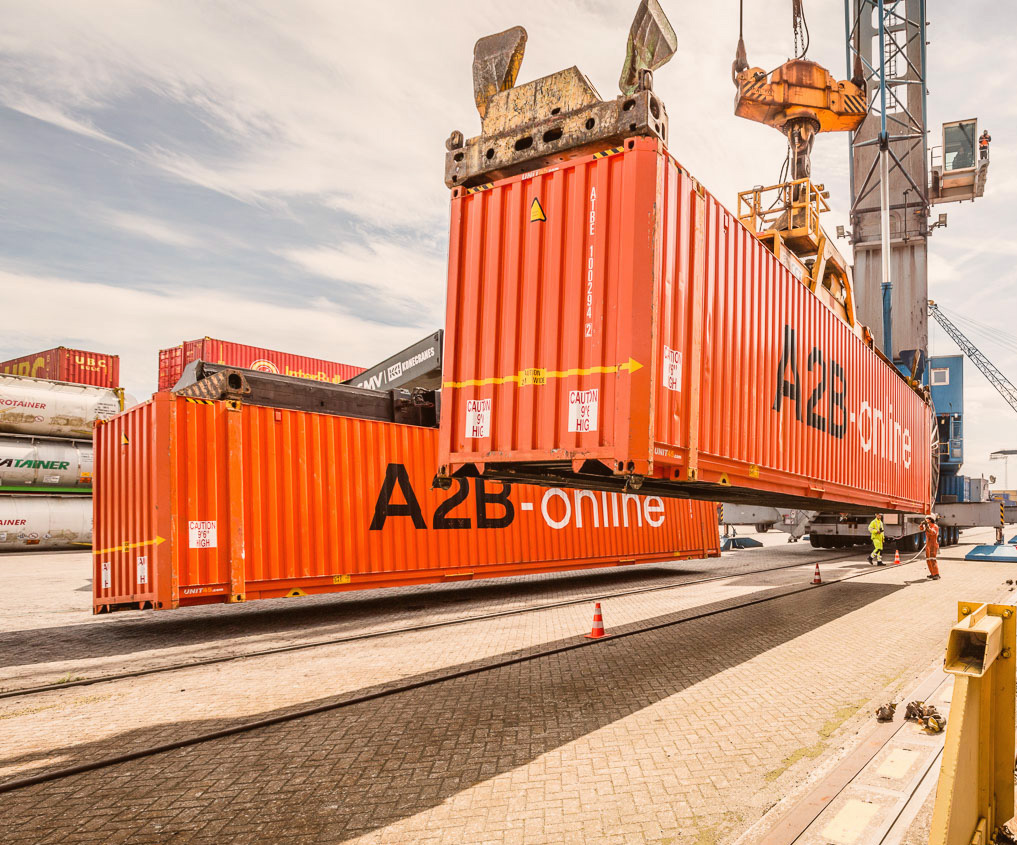 Our Quay/Quay
Container Services
Do you want to have a cargo transported by container between the United Kingdom and the mainland of Europe from the loading address to the unloading address? Allow yourself maximum convenience and utilize the stable Quay/Quay Container Services provided by A2B-online.
Our Quay/Quay Container Services
On a daily basis, we arrange container transport for our customers from the ports in Moerdijk / Rotterdam Botlek to 4 ports in the United Kingdom and vice versa. We utilize our own 7 container ships for this service. We offer more than 18 departures per week and operate both the Southern and Northern part of the United Kingdom, serving the entire East Coast. With this distribution, you can reach the hinterland all over the United Kingdom, and we provide the solution you're looking for with our Quay/Quay Container Service!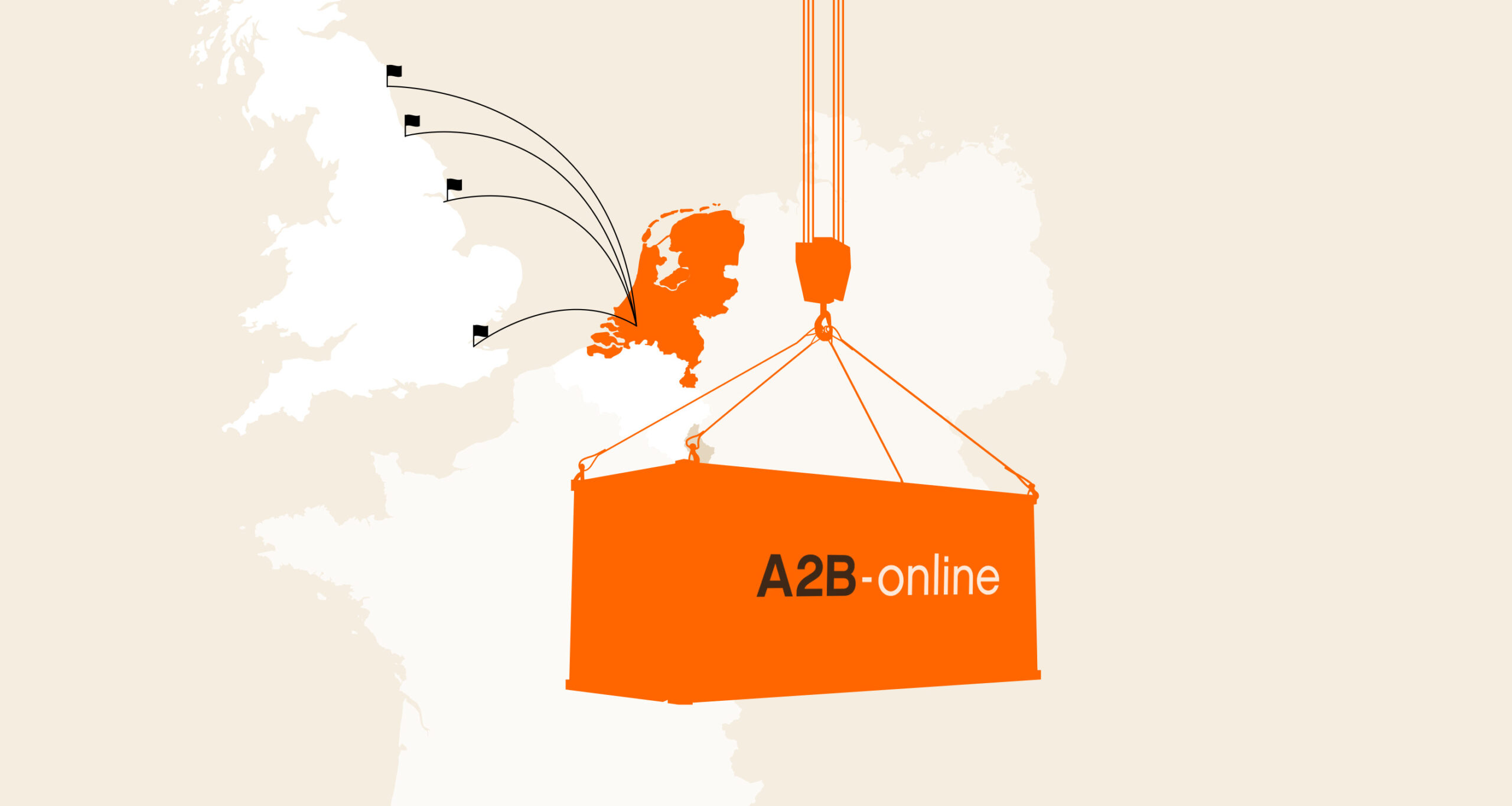 Your transport
in 5 steps
You place your booking

Our Quay/Quay team is ready to serve you!
You arrive at the designated time at the terminal with the container
You unload the container at the assigned location on the terminal

Once all formalities have been handled and the documentation is in order, you unload the container at the assigned location on the terminal. From here, the container is transferred to the designation stack, ready for shipping.
We transport the container to the United Kingdom / Europe and unload it at the port

After loading the container on the vessel, we ship the container to the United Kingdom or Europe and we unload the container at the port of destination.
You retrieve your container at the port

After all customs formalities have been completed, you pick up the container at the port of destination.
Advantages
with A2B-online
New customer? You'll be up & running in no time!
As a customer, you do not need to have your own transport vehicles.
You will have personal contact with a member of our quay/quay team.
Realtime tracking of your cargo throughout the entire shipping process via status updates in our customer portal.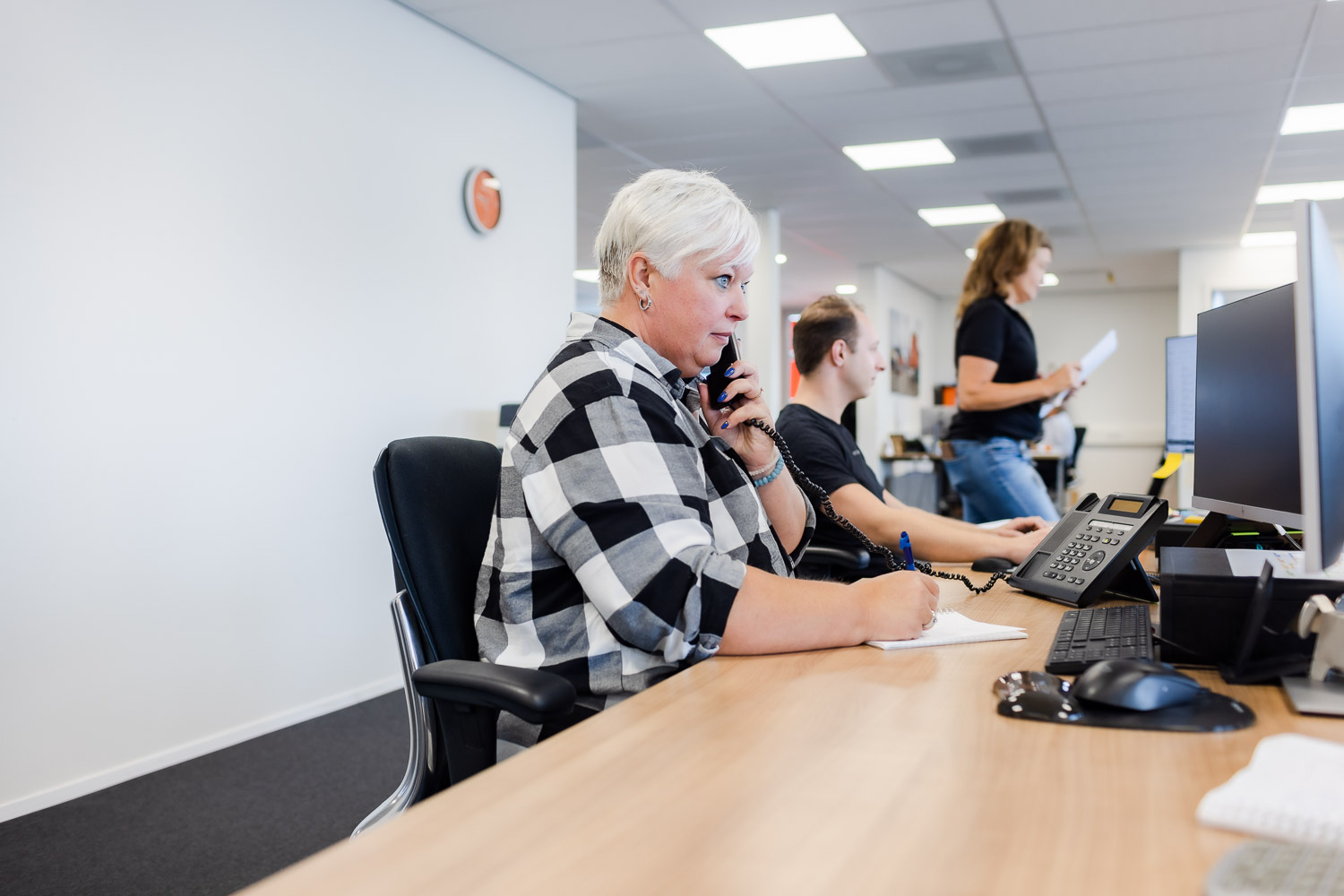 Our team
In Moerdijk, our dedicated Quay/Quay team with experienced staff is ready to arrange  container transport (from booking to customer service) to ensure the container transport is managed as efficiently as possible for all our clients. This involves a smart combination of online booking and processing, along with personal contact where desired or needed.
In addition to our spot customers for whom we arrange container transport upon request, we have over 60 regular Quay/Quay clients for whom we organize transportation on a consistent basis. We handle daily transport for approximately 25 clients. Our Quay/Quay team is also ready to assist you in arranging your container transport.
We provide you with peace of mind
Bookings

Our planning team will assist you with scheduling and making your transport booking. We offer multiple options for making your booking, email, EDI (where your system and our booking system are integrated), and our customer portal (where you can manually book in our system). Whichever method you prefer, our team is here to guide you through the process and ensure that your shipment is scheduled and confirmed in a timely manner.

Anticipating the current situation effectively, looking ahead, and proactively exploring possibilities for our clients and for A2B-online.
Inform and brainstorm with customers pro-actively

We share our Sailing Schedule with our customers on a weekly basis, exchange a lot of information via email, and have intensive telephone contact. We also work together with our own IT team to optimize our joint processes.
Proactive collaboration with the terminals

We maintain close contacts with the terminal in Moerdijk and the ports in the United Kingdom to ensure smooth and efficient transportation for our customers.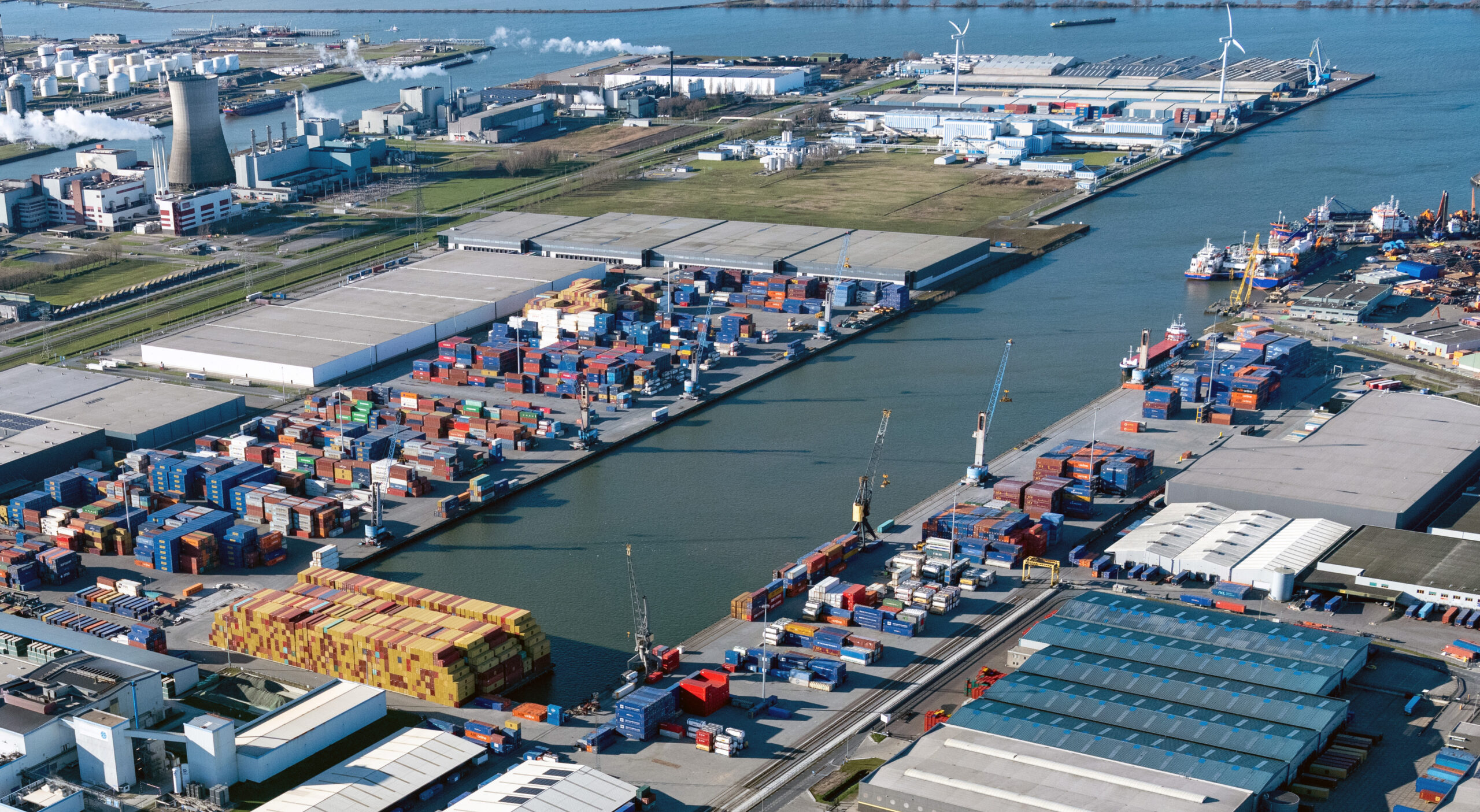 Pieter Blom, Business Unit Manager Quay / Quay
"We are located in Moerdijk for a reason!"
Connections
West Brabant corridor
Maasvlakte
Belgium
Germany
Italy
Poland
WEC lines (Spain / Portugal)
NCL (Norway)
Viasea Shipping BV (Norway)
A2B-online Container B.V. (United Kingdom)
BG Freight Line (Ireland)
Customs
formalities
"Customers who utilize our quay-to-quay service for their container transport are responsible for handling the customs formalities themselves. They provide all the necessary export documentation in a timely manner (through Portbase). Only after the documentation has been approved, the transport across the water takes place.
Of course, it is also in our interest that all the required documentation is provided on time and is accurate. In practice, this creates a sense of shared responsibility, and we act as the point of contact for our customers if they have any questions, uncertainties, or issues."
Pieter Blom
Business Unit Manager Quay/Quay
Read more about our Customs Services
Can we take care of your Quay/Quay container transport?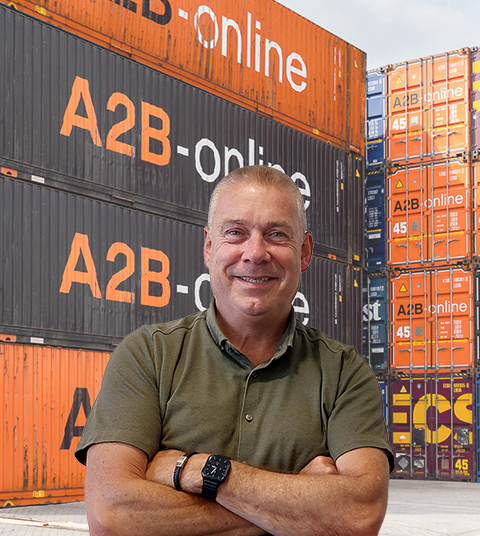 Commercial Director
André Mast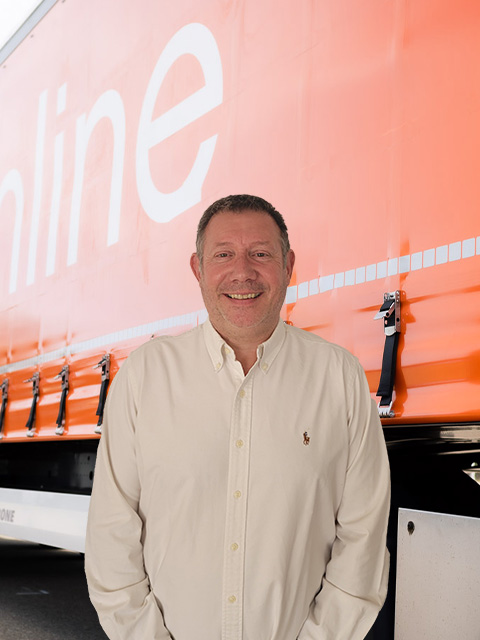 Manager UK Sales
Nathan Burrell
Inside Sales Coördinator
Esteban Bastan
Info or quote?
More than 60 clients utilize our container and shipping services. What can our Quay/Quay Container Service do for you?
Please contact André, Nathan of Esteban of our Sales team for personal advice and/or a quote for your Quay/Quay container transport.