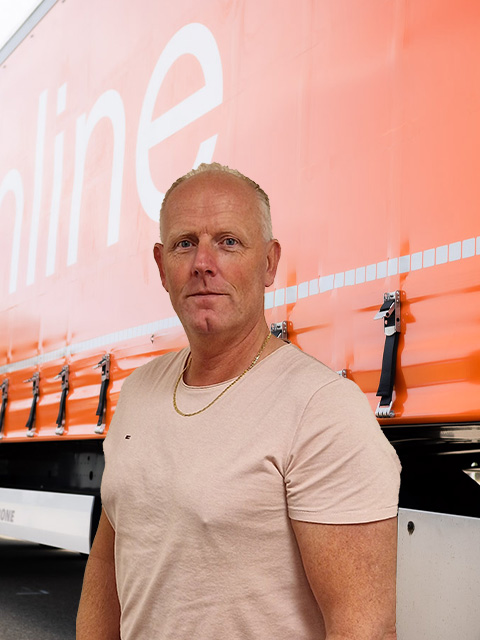 About the ins and outs of the planning department
How does a typical workday look like on the planning department? What does he enjoy most about his work? Which event has had the biggest impact on him during his 12.5 years at A2B-online? Can anyone become a planner, and what makes a good logistics planner? In a 10-question Q&A, Marco Broekhuizen, Supervisor of Transport & Operations, provides a personal glimpse into "his" planning department.
How did you end up in the transport sector?
"My father was a chief mechanic, and during my school days, as soon as I got out of school on Fridays and on Saturdays as a part-time job, I washed trucks. Soon, I started moving vehicles around on the company premises, accompanying them on truck rides, and so on. Meanwhile, as soon as I could, I obtained my driver's license and then my commercial driver's license, and quickly started doing my own trips. That's how it all began."
How has your career progressed since then?
"After working as an international driver for about 11 years, I transitioned to logistics planning for approximately 10 years at companies like Zijderhand Transport, Norfolkline, and DFDS. When Dinant (CEO) started his own business in 2006, he said, 'I'll call you sometime.' That call indeed came, and for almost 13 years now, I have been working happily at A2B-online."
What does a typical workday look like in the planning department?
"Our regular working hours are from 8:00 AM to 6:00 PM. As a team, we start by addressing any messages we received before 8:00 AM. Then we go through the planning list to ensure everything is progressing smoothly, making necessary adjustments throughout the day.
Only after that, we begin scheduling for the following day. In parallel, we also work on pre-planning, which involves making bookings about two weeks in advance. This mainly concerns positioning trucks in Germany to cover return loads to the UK. While this may sound well-organized, the day's unexpected events often play a significant role. For example, if ships cannot sail due to a storm, all loads must be rebooked.
After 6:00 PM, one of our planners is always on duty to ensure 24/7 availability in case of emergencies."
What programs and tools do you use in the planning department?
"First and foremost, we use our own system, the A2B-Center. Additionally, we work extensively with spreadsheets, MyFreight (the booking system of our partner DFDS), and the Portbase port community system (used for exchanging customs data)."
What is your relationship like with customers? Do you have a lot of personal contacts?
"My direct colleagues from Customer Service have more direct contact with customers since, in my role, I have more of a supervisory and coordinating role. Initially, our Customer Service team and account managers are the primary points of contact for our clients, rather than the planners. They are the ones who maintain personal relationships with our customers. However, I do have frequent contact with our forwarders, freight forwarders, as well as with carriers and the people from DFDS."
When are you considered a good planner?
Jokingly, "I would say, don't become one and keep looking," but on a serious note, "A good planner needs to have insight, be able to handle stress, and be quick to adapt and communicate. Geographic knowledge is also useful, but you can pick up those things quickly if the work suits you, and it becomes evident soon enough."
What do you enjoy most about your work?
"Without a doubt, the diversity, where no two days are the same. Although in recent years, it has been a bit overwhelming with significant changes in our IT department, the Brexit impact, and the war affecting our Russian and Ukrainian ship crew and drivers, as well as the changes due to high fuel prices."
What is the most impactful experience you have had in your work?
"In a smaller scale, I immediately think of a driver who passed away during his work several years ago. We noticed online that the trailer was not being moved. We couldn't reach him, so we went to check on him, and sadly, he had passed away. That was quite impactful!
On a larger scale, without a doubt, it was the Brexit! I have experienced significant changes before, but the Brexit truly had an impact on everything! Seriously… there were, for instance, 150 trailers stuck on the other side because some people seemed to have lived under a rock for three years."
What do you do to destress? Do you bring your work home with you?
First, with a grin and then casually, "I don't do anything; the work is never finished, and I've grown accustomed to that. Over the years, I've become somewhat calmer overall… (with a big smile), at least I think so. So, when my team is in order and everyone can leave with a smile, I am a contented person!"
What is the biggest strength of A2B-online?
The strength of A2B-online lies in our flexibility towards our customers and our focus on service. There are always uncertain factors, but we never say no and always strive to find solutions and possibilities in collaboration with the customer. That's what we have always done, and that's what we will continue to do because it's ingrained in the DNA of A2B-online.
Do you fit into our team? Learn more about working at A2B-online